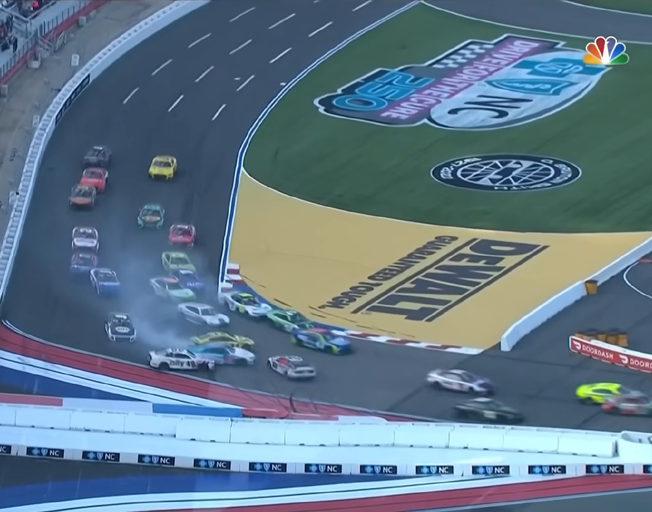 The final race in the Round of 12 in the NASCAR Playoffs is the Back of America ROVAL 400. Four drivers will be eliminated from championship contention following the race at the Charlotte Motor Speedway Road Course.
Two drivers, William Byron and Ryan Blaney, will feel no extra pressure. They won the first two races in the Round of 12 and earned automatic advances to the Round of 8 as a result.
Denny Hamlin is looking pretty likely to advance. He would have to have a completely devastating day to lose enough points to get eliminated from the Playoffs.
Below that, there are no guarantees for anybody. Some drivers need to just have a good day to advance. Others need to have a great day to advance. There are some that need to have a good day and help from others having a bad day to avoid elimination. One, Kyle Busch, might be in a "must win" scenario if he wants to advance. Below is the 2023 NASCAR Cup Series Playoff Outlook heading to the ROVAL.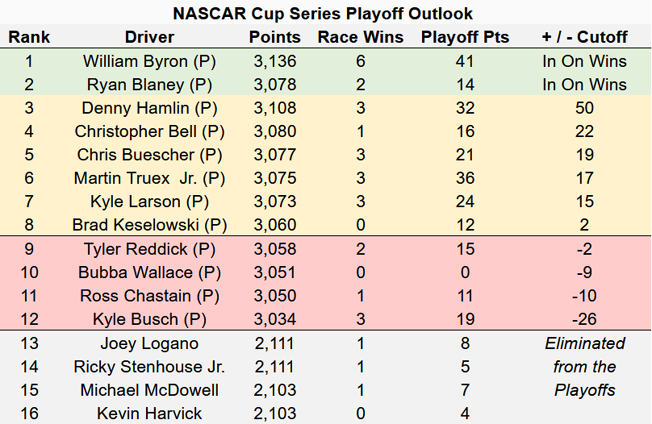 Here is the data for the track and the race this weekend that all the drivers will be facing.
Charlotte Motor Speedway Road Course Data:
Track Size: 3.67-kilometers / 2.32-miles
Track Type: Road Course
Number of Turns: 17
Elevation Change: 35 degrees
Back of America ROVAL 400 Data:
Season Race #: 32 of 36 (October 8, 2023)
Playoff Race #: 6 of 10
Round of 12 Race #: 3 of 3
Race Length: 109 laps / 400 kilometers / 252.88 miles
Stage 1 and 2 Length: 25 laps (each)
Final Stage Length: 59 laps
The NASCAR Cup Series has only been racing on the Charlotte Motor Speedway Road Course for a handful of years. That means the active drivers that have won a race on it is a short list.
| | | |
| --- | --- | --- |
| Chase Elliott | 2 Wins | 2019, '20 |
| Christopher Bell | 1 Win | 2022 |
| Kyle Larson | 1 Win | 2021 |
| Ryan Blaney | 1 Win | 2018 |
Remember, this year NASCAR made a change for road course racing. There is not an automatic caution at the end of the first two stages of the race. That means crew chiefs can try to come up with a pit strategy that could put their driver at the front near the end. It could give that driver a chance to win. However, the strategy could also backfire and take away the chance to win.
There is also always the chance to get caught up in mayhem on a road course. One driver being a little too aggressive going into a turn can result in multiple cars spinning and wrecking.
The reverse can also be true. A driver making the right aggressive move at the right time can move them past other drivers and give them a chance to win the race.
This being an elimination race will bring multiple scenarios to the track. That means we will have to watch and find out what happens, who can win and will be eliminated in the Back of America ROVAL 400 at the Charlotte Motor Speedway Road Course Sunday, October 8th starting at 1 p.m. central time (2 p.m. eastern time).
By: Buck Stevens