Mornings on B104
I'm just a girl, who loves hard, works hard, and says what I feel.
I love music and movies and pop culture and cupcakes and pizza and dogs.
Seriously, I LOVE dogs.
I love crappy TV, live music, and flip flops.
I love summer and hate winter.
I love country music and Luke Bryan.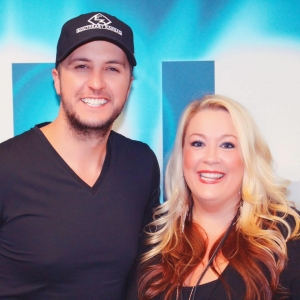 I put ranch dressing on everything and can rap the entire "Fresh Prince Of Bel-Air" Theme song.
My family is everything to me.
Faith Rinker has lived in Central Illinois most of her life, graduation from Pontiac High School, then attending ISU as a music major. Although she attended ISU to be a Music teacher, it was radio that captured her heart her Senior year of college and she has been a part of the Radio Bloomington family ever since. Now, you can hear Faith waking you up, Mornings on B104, and keeping you company through the workday Middays on WBNQ. Faith also owns and operates her own DJ Business, Glass Slipper Entertainment, and can be found Emceeing and DJing weddings and receptions almost every weekend in the area. 
Faith has so much love for the Bloomington-Normal community and can be found often Emceeing and supporting many groups and charities around the area, like St. Jude Children's Research Hospital, Special Olympics, Toys for Tots, and numerous animal rescues in the area.