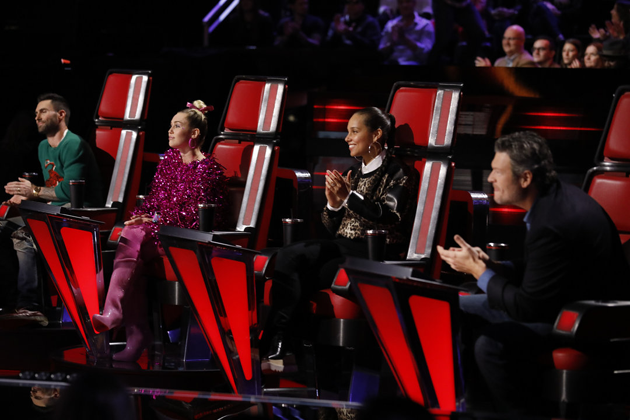 The Top 8 on The Voice performed in the semi-finals for season 11 last night (12/5). How did they do?
The remaining artists performed twice, one solo performance and one duet with another member of the Top 8 on the show. I checked the iTunes chart at just past 9:00 AM central time to see where the artists were ranked at that time in that form of voting. The voting remains open until 11:00 AM central time (12 NOON eastern time), so the rankings can change before the end of voting.
However, below are the performances from last night posted in the order they were ranked on iTunes when I checked.
(Rank – Artist – Song Title – Team)
#1 – Billy Gillman – "I Surrender" – Team Adam
#2 – Sundance Head – "Love Can Build A Bridge" – Team Blake
#6 – Christian Cuevas – "To Worship You I Live" – Team Alicia
#7 – Josh Gallagher – "Danny's Song" – Team Adam
#9 – Brendan Fletcher – "Angel" – Team Adam
#10 – Wé McDonald – "Scars to Your Beautiful" – Team Alicia
#13 – Ali Caldwell – "I Will Always Love You" – Team Miley
#34 – Aaron Gibson – "(Everything I Do) I Do It for You" – Team Miley
You can watch the artists' duet perfromances at The Voice's YouTube channel here.
Tonight (12/6) FOUR artists will be eliminated to leave the four artists that will compete next week in the season 11 Finals on The Voice.
There are other forms of voting that we cannot track which means really any of these eight amazing artists can advance or be eliminated tonight. However, I am going to predict that the final four on The Voice Season 11 will be (in no particular order) Billy Gillman, Sundance Head, Christian Cuevas and Wé McDonald.
Which artists WILL advance to the season 11 Finals on The Voice?
Will Blake Shelton have a chance to win for the fifth time as a coach?
We will all find out starting at 7:00 PM central time (8:00 PM eastern time) on the live elimination show on NBC.
By: Buck Stevens