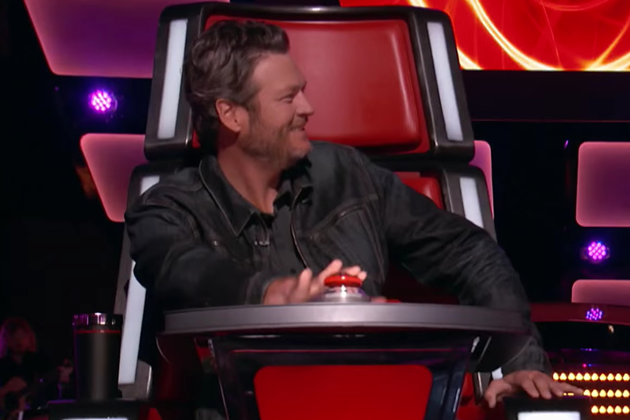 The Blind Auditions continued last night (9/20) on The Voice season 11 and Blake Shelton added two more artists to his team.
Blake hit his button for several artists and was able to convince two of them that #TeamBlake was the path to take on the show.
Season 11's oldest contestant is Dan Shafer. The native of Bussac, France now calls Mount Juliet, TN home and sang the song "Marry Me" by Train. Adam Levine and Blake both kept looking at each other as they thought about pressing their buttons, but it was Blake who finally did. This time Blake did not have to compete for the artist as Dan instantly became a member of #TeamBlake.
Ethan Tucker is a native of Olympia, WA. He took a chance by putting a reggae touch to the classic hit "Roxanne" by The Police. Again, it was Adam and Blake exchanging looks while deciding if they should hit their buttons. Adam hit his and Blake quickly responded in kind. Both coaches made some serious pitches, but it may have been Blake's subtle play of the "Gwen Stefani card" that was the tipping point to bring Ethan to #TeamBlake.
Eleven-year-old former child-country star Billy Gilman is now 28-years-old. He decided to use The Voice as a platform to remake himself as a pop singer. All four coaches pressed their buttons during his Blind Audition which you we showed you yesterday as a leaked video. In case you were wondering, he chose to join #TeamAdam.
You can see where all of the teams stand after two nights of Blind Auditions at The Voice website here.
The Blind Auditions continue on season 11 of The Voice Monday (9/26).
By: Buck Stevens