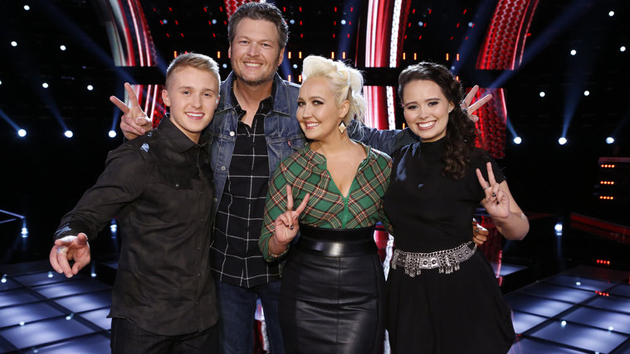 The live results show for season 8 of "The Voice" aired last night (4/21) and Blake Shelton was able to keep Team Blake intact and in the Top 8.
The hour long results show included a performance from Reba who had served as advisor to the artists the previous week. Pharrell Williams performed with his team during the show as did Adam Levin and Team Adam.
Through the show artists that had been voted into the Top 8 by America's vote were revealed until the bottom three were left. Those three were both of Adam Levine's artists Joshua Davis and Deanna Johnson as well as Rob Taylor from Christina Aguilera's team.
Carson Daly initiated the five minute Twitter Save to determine which of the three artists would remain and move on to the Top 8 for next week. When the Twitter voting ended it was Team Adam's Joshua Davis that was revealed as the final artist in the Top 8.
Here is the Top 8 for season 8 of "The Voice":
Team Blake
Corey Kent White
Hannah Kirby
Meghan Linsey
Team Xtina
India Carney
Kimberly Nichole
Team Pharrell
Koryn Hawthorne
Sawyer Fredericks
Team Adam
Joshua Davis
By the way, I want to point out that my blog yesterday (4/21) about the iTunes sales did in fact predict the bottom three artists for this week.
Next week coaches from previous seasons of "The Voice" will return to prepare the Top 8 for their live performances. CeeLo Green will be advising Team Blake, Usher will work with Team Adam and Gwen Stefani will help both Team Pharrell and Team Xtina.
The Top 8 will perform live on "The Voice" Monday (4/27) starting at 7pm central time on NBC and hope to earn your votes.
By: Buck Stevens