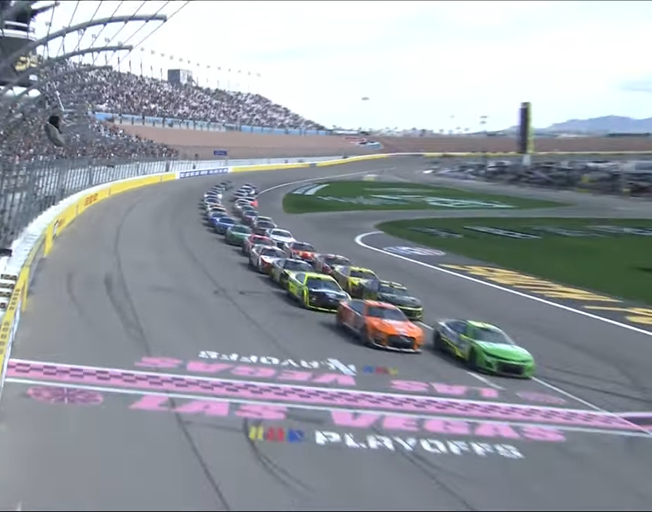 The final three-race round of the NASCAR Playoffs starts this weekend with the South Point 400 at Las Vegas Motor Speedway.
The drivers in the Round of Eight will have to either win one of the next three races; or gather enough points to be in the top four when the round is over. If they achieve that goal, they will be a part of the final, one-race, winner-takes-all Championship Round. Below is a look at the NASCAR Cup Series Playoff Outlook heading to Las Vegas.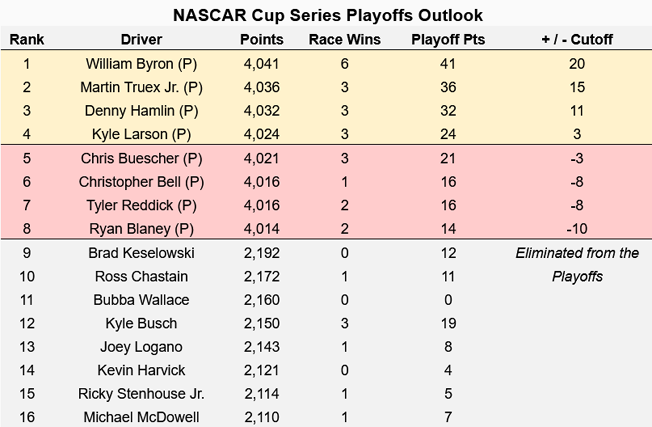 Getting that win this weekend at Las Vegas Motor Speedway will not be an easy task for the eight drivers still in the post-season. The race can have drama and multiple cautions like this race did last year. It can also be a strategy and handling race with minimal cautions like the spring race this year at the track. To borrow a line from a Kenny Rogers song, the drivers and crew chiefs "have to know when to hold 'em, know when to fold 'em" when they race in Las Vegas.
Here is what all the drivers and teams will be facing this weekend at the track and in the race.
Las Vegas Motor Speedway Data:
Track Size: 1.5-miles
Banking/Turns 1 & 2: 20 degrees
Banking/Turns 3 & 4: 20 degrees
Banking/Frontstretch & Backstretch: 9 degrees
Frontstretch Length: 2,275 feet
Backstretch Length: 1,572 feet
South Point 400 Data:
Season Race #: 33 of 36 (October 15, 2023)
Playoff Race #: 7 of 10
Round of 8 Race #: 1 of 3
Race Length: 267 laps (400.5 miles)
Stage 1 Length: 80 laps
Stage 2 Length: 85 laps
Final Stage Length: 102 laps
Here are the active drivers that have won a NASCAR Cup Series race at Las Vegas Motor Speedway during their careers.
| | | |
| --- | --- | --- |
| Joey Logano | 3 Wins | 2022, '20, '19 |
| Brad Keselowski | 3 Wins | 2018, '16, '14 |
| Martin Truex Jr. | 2 Wins | 2019, '17 |
| Kevin Harvick | 2 Wins | 2018, '15 |
| *William Byron | 1 Win | 2023 |
| Alex Bowman | 1 Win | 2022 |
| *Denny Hamlin | 1 Win | 2021 |
| *Kyle Larson | 1 Win | 2021 |
| Kyle Busch | 1 Win | 2009 |
*Round of 8 Playoff Driver
So far this year there has only been one non-playoff driver win a race in the NASCAR Playoffs. That was AJ Allmendinger last week at the ROVAL. Will another non-playoff driver play spoiler this week to put more pressure on the Round of 8 drivers for the next two weeks?
Perhaps Joey Logano who is the defending winner of this race in 2022 and defending 2022 NASCAR Cup Series Champion will win. He has been eliminated from the post-season and can't defend his championship. This could be a way to make a statement as the season draws to an end.
William Byron was the winner of the spring race at Las Vegas Motor Speedway. It is one of his season leading six wins. Many consider him the favorite to win the championship. Getting this win would secure his spot in the Championship Four for the chance to prove them right.
The rest of the drivers both in and out of the Playoffs will want to have a say in the outcome of the race this weekend. Things can get interesting when teams and drivers start gambling for a win in Vegas. We will see who holds the winning hand when the South Point 400 starts at 1:30 p.m. central time (2:30 p.m. eastern time) Sunday, October 15th at the Las Vegas Motor Speedway.
By: Buck Stevens