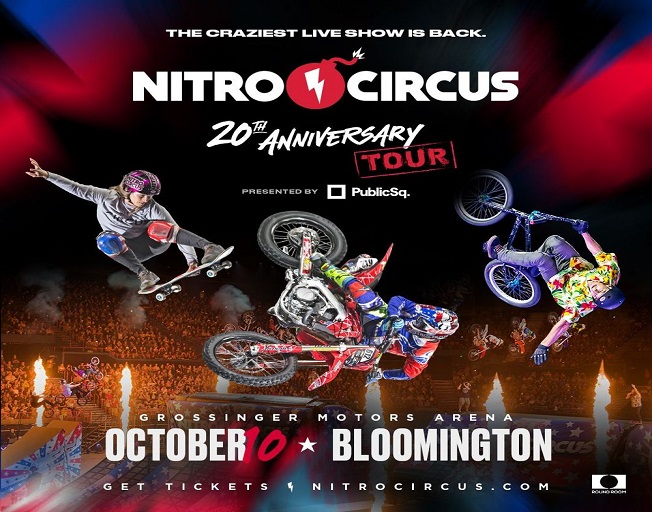 Tune in all this week with Faith in the Morning to win tickets to see Nitro Circus in Bloomington!
The craziest show in live entertainment will bring the party back to indoor arenas for the first time in five years, and is coming to Grossinger Motors Arena on October 10th for the 20th Anniversary!
Tune in at 7:40 with Faith in the Morning all this week (10/2-10/6) and be caller 9 at 309-821-1041 when you hear the cue to call to WIN a pair of tickets with B104!
About Nitro Circus:
This tour will electrify live audiences from coast to coast as Nitro Circus runs it back, celebrating two decades of record-breaking thrills, death-defying spills and side-splitting shenanigans. Every night an elite roster of top riders will throw down, led by dual BMX and scooter threat Ryan "R-Willy" Williams, freestyle motocross (FMX) star Jackson "Jacko" Strong, WCMX pioneer Aaron "Wheelz" Fotheringham, and more. Fans can also look forward to special guest visits from various Nitro legends at every tour stop.

The new production for the 20th Anniversary Tour includes Nitro Circus' infamous 50-foot Giganta ramp alongside the next generation of FMX kickers and landers. These innovative setups will give athletes the tools to take action sports to new heights as they attempt huge, never-before-done tricks. Nitro's daredevils will also push the boundaries of sanity revisiting some of the brand's sketchiest stunts as well as jumping a host of new crazy contraptions.  

Since 2003, Nitro Circus has stunned millions of fans across the globe with a kinetic mix of boundary-breaking world's firsts alongside outrageous comedic moments. Created by legendary ringleader Travis Pastrana, Nitro Circus has showcased a collection of action sports' best athletes and biggest stars in packed venues worldwide. Now this fun-loving and thrill-seeking collective is back to celebrate 20 years of pushing the limits. 
For more information or to purchase tickets, Grossinger Motors Arena.