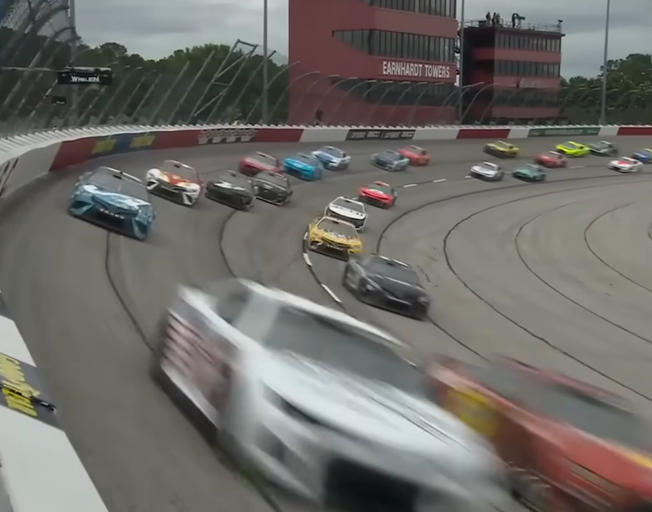 It is time again for the NASCAR Throwback Weekend at Darlington Raceway. Sunday the teams and drivers will be saluting 75 years of racing in the Goodyear 400.
There will be vintage paint schemes on the cars. Pit crews will be wearing vintage race suits. The TV announcers will be decked out in vintage apparel. There will be plenty of pre-race ceremony saluting the sport's 75-year heritage. However, when the green flag waives the drivers and teams will be instantly transported back to the here and now.
Sunday's here and now will be finding a way to get around the track with the nicknames "The Lady In Black" and "The Track Too Tough To Tame." That should give you an idea of what the drivers will be up against from just the track. They will also have to worry about the other drivers.
If a driver pushes the car past the point of being able to control it (as often happens at Darlington), that car will likely slide and possibly spin. If there are any cars around that car the result is a multi-car crash. There is a mistake that can be made that does not necessarily cause a crash or end a driver's day.
Many drivers like to race right up next to the wall at Darlington. It is a place to find a lot of speed just inches off the wall. If a driver jumps that small cushion of air between the car and the wall it leaves a slide mark down the side of the wall and the car. This has become known as the "Darlington Strip." Most of the time this really does not cause an issue for the driver. However, get too many "stripes" and it can start to affect the handling of the car and the prior mentioned issue can happen.
Another thing that drivers have to mindful about at Darlington is payback. If two drivers have had an issue of any kind, this track is often used to send a message. The driver that feels he has been wronged can bump the car of the driver he has an issue with to cause him to lose control. There are a couple of very recent incidents that I can think of that could fall under this payback scenario Sunday.
Here's the data for the track and race for this weekend.
Darlington Raceway Data
Track Size: 1.366-miles
Banking/Turns 1 & 2: 25 degrees
Banking/Turns 3 & 4: 23 degrees
Banking/Frontstretch: 6 degrees
Banking/Backstretch: 6 degrees
Frontstretch Length: 1,229 feet
Backstretch Length: 1,229 feet
Goodyear 400 Data
Season Race #: 13 of 36 (05-14-23)
Race Length: 293 laps / 400 miles
Stage 1 Length: 90 laps
Stage 2 Length: 95 laps
Final Stage Length: 108 laps
Here are the active drivers that have won a Cup Series race at Darlington Raceway.
| | | |
| --- | --- | --- |
| Denny Hamlin | 4 Wins | 2021, 2020, 2017, 2010 |
| Kevin Harvick | 3 Wins | 2020, 2020, 2014 |
| Erik Jones | 2 Wins | 2022, 2019 |
| Martin Truex Jr. | 2 Wins | 2021, 2016 |
| Joey Logano | 1 Win | 2022 |
| Brad Keselowski | 1 Win | 2018 |
| Kyle Busch | 1 Win | 2008 |
There are two "payback" scenarios that I alluded to earlier from last week's race in Kansas. The first being Denny Hamlin bumping Kyle Larson on the last lap to make him slide to get past for the win. The other was the on-track incident in the race that led to the post-race hit between Ross Chastain and Noah Gragson. We will have to see if either of these result in anything this week.
The Goodyear 400 gets started at 2 p.m. central time (3 p.m. eastern time) this Sunday, May 14th at Darlington Raceway. And yes, that is also Mother's Day so Happy Mother's Day to all the moms!
By: Buck Stevens