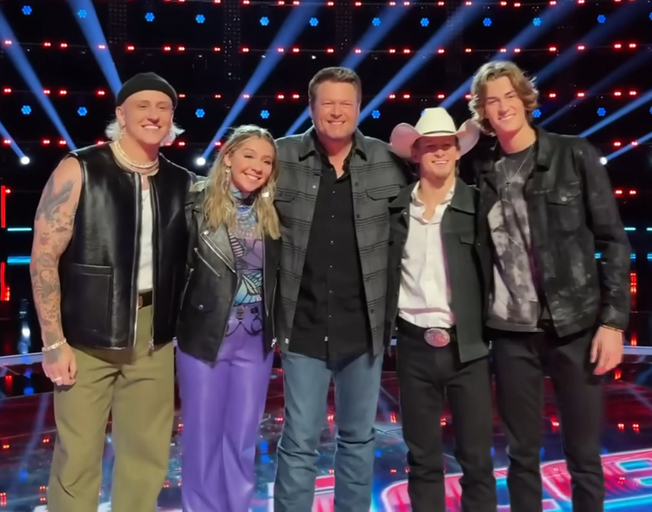 Last night (11/21) the Top 13 performed live on season22 of The Voice. How did Blake Shelton's artists on Team Blake do?
Last week (11/15) Blake's team made it through the first live elimination show intact. Bryce Leatherwood was able to win the first "Instant Save" of the season for Team Blake to move forward with all four artists.
Tonight (11/22) three more artists will be sent home to create the Top 10. Here are the Team Blake performances from last night.
Bryce Leatherwood chose to sing an iconic George Strait song, "Amarillo By Morning." I really think Bryce is a great singer and has a future in country music. However, his performance on this song was very good, but not great in my opinion.
Rowan Grace went old school and performed "The Winner Takes It All" by ABBA. It is really amazing how a 16-year-old can sound so good on a classic song like this one.
Bodie really took an artistic leap with the song "I'm Gonna Be (500 Miles)" by The Proclaimers. He slowed it down and made it very much his own song. I thought this was a great performance as a result.
Brayden Lape chose to perform the Sam Hunt version of the Kenny Chesney song "Come Over." I felt like it suited his voice and his style very well. This 16-year-old kid has a big future ahead of him.
You can see all the other performances at The Voice YouTube channel here.
You can see everything about the show at the official website of The Voice here.
I'm not sure if it will be possible for Team Blake to move forward with all four artists again this week or not. We will have to watch the live elimination show tonight to find out. Last night it was revealed that both Blake and Camila Cabello will be performing with their teams on the show tonight.
The Voice Season 22 airs Mondays and Tuesdays at 7 p.m. central time (8 p.m. eastern time) on NBC and streaming the next day on Peacock.
By: Buck Stevens