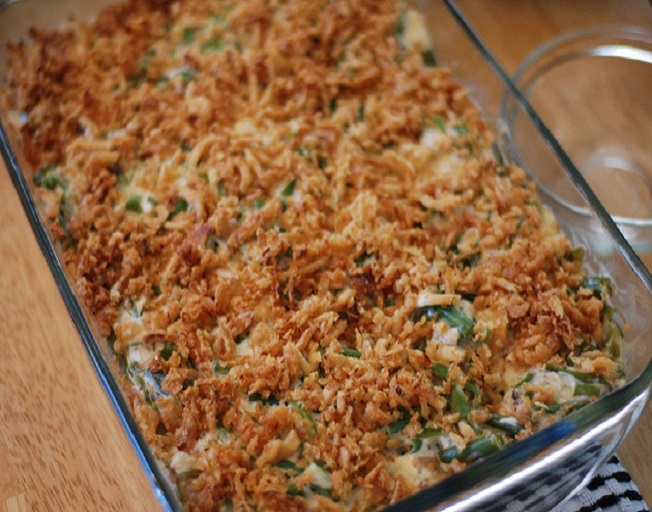 If you LOVE green bean casserole like I do, you HAVE to try Nashville Kat's famous recipe!
Kat says this recipe is also great for people who say they don't like green bean casserole, although I didn't realize those kind of people existed haha.
Well, you asked again this year, so here it is again…Thanks to Nashville Kat for sharing some of her amazing recipes with us just in time for another food coma at the table this year! And don't forget you can pick up her cookbook as well!
Best Green Bean Casserole
This can be made the day before then cooked after it gets to room temperature.
4 tablespoons butter, divided
2 tablespoons flour
¾ to 1 teaspoon salt
½ teaspoon black pepper
1 teaspoon white sugar
1 ½ teaspoons garlic powder
¼ cup onion, diced
1 cup sour cream
2 pounds fresh green beans, chopped in 2 "pieces then steamed
8 ounces Cheddar cheese, shredded (I used sharp Cheddar)
1 large can French fried onions
Preheat oven to 350. Add two tablespoons butter to large skillet and sauté onions until translucent. Whisk in flour and cook for one minute. Then add salt, pepper, sugar and garlic powder. Turn heat off; add sour cream and green beans and stir to coat. Toss in cheese and gently mix. Transfer to 2 ½ quart casserole. In bowl, toss fried onions with remaining two tablespoons of melted butter then sprinkle evenly over casserole. Bake for 30 minutes or until cooked thru and bubbly.