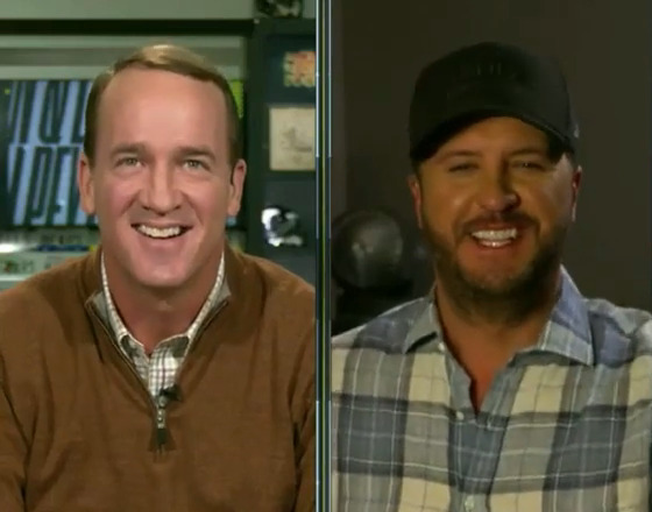 Luke Bryan joined Peyton and Eli Manning's broadcast of Monday Night Football, and Luke rubbed in the bulldog's 27-13 win over the Vols.
"I know Luke is excited about this past weekend in Athens," Manning said as he introduced Bryan. "Hey, I need that hundy ($100) – me and you. That hundy. Where's that hundy?" Bryan asked the former NFL star.
"I will give it to you tomorrow," Manning reluctantly acknowledged. "We are going to talk about (Georgia-Tennessee). I know you were the guest picker on (College) Gameday. Your Bulldogs beat my Vols. Luke, were you surprised we actually invited you to be on the show tonight?" Manning joked. "You have to take your medicine," Bryan said, smiling.
You can watch a video of the appearance here.
Bryan is a big fan of the Georgia Bulldogs, even losing his voice during the National Championship game, which affected his performance two weeks later. His wife Caroline put tape over his mouth to ensure he rested his voice.
Watch Luke and Peyton co-host the 56th Annual CMA Awards when it airs live from Nashville Wednesday, November 9th at 8/7c on ABC. For more info, visit CMAawards.com.