May is Happy Tails month and the Humane Society of Central Illinois (HSCI) has planned several fun events!
The HSCI is changing the way they fundraise with a month full of events and they are inviting the entire community to get involved during HAPPY TAILS from April 30th – May 21st.
The variety of events gives you the opportunity to support the HSCI when you can instead of at a single night gala event.
Even the ONLINE AUCTION offers something for everyone while you help take care of the pets at the Humane Society of Central Illinois.
Online Auction items include: tickets to a St. Louis Cardinals game, hotel stay on Mackinac Island in Michigan, private tour of the Destihl Brewery, overnight with a Tesla, and many more items!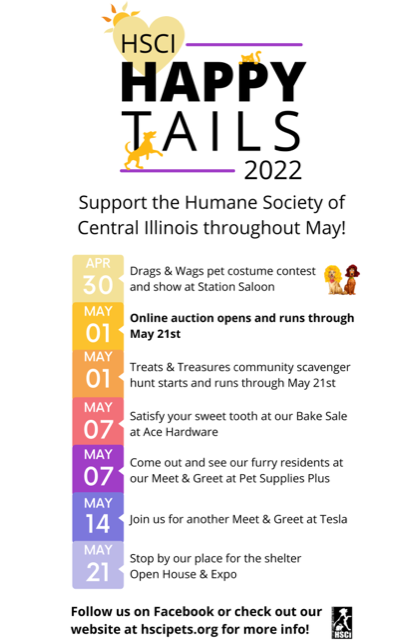 Specific details for every Happy Tails event and the online auction can be found on the HSCI website.