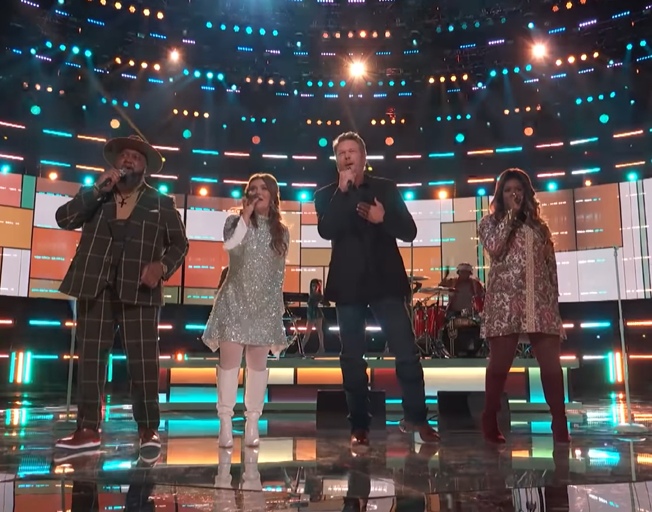 Last night (11/24) was the Live Results Show for the Top 11 on Season 21 of The Voice. Team Blake performed with their coach Blake Shelton. How many of them advanced to the Top 10?
Through the first part of the one-hour live episode The Voice host Carson Daly revealed artists that advanced based on America's votes. He explained that the bottom two artists in votes would sing to compete for the "Instant Save" and be the final person in the Top 10.
Paris Winningham was the first of the Team Blake artists to be ruled safe by America's votes. Wendy Moten was then announced as part of the Top 10. It wasn't until the final artists that advanced on votes were revealed that we found out that Lana Scott was also advancing.
Team Blake took the stage knowing they were all in next week's show with a chance to keep moving forward. Blake and his team performed "I Can't Help Myself (Sugar Pie Honey Bunch)" by The Four Tops.
You don't see it in this video clip, but Wendy Moten took a serious fall on stage following the performance. She was helped off stage by the show's crew. Apparently she was checked out during a commercial break. When the show resumed Wendy stood next to Carson to let everybody know she may be a little bruised, but she was still good to go for next week.
The "Instant Save" was between Team Kelly's Gymani and Team Ariana's Jim and Sasha Allen.
When the votes were tallied it was Jim and Sasha that become the final artists in the Top 10.
Monday, November 29th the competition continues on season 21 of The Voice starting at 7pm central time (8pm eastern) on NBC.
By: Buck Stevens