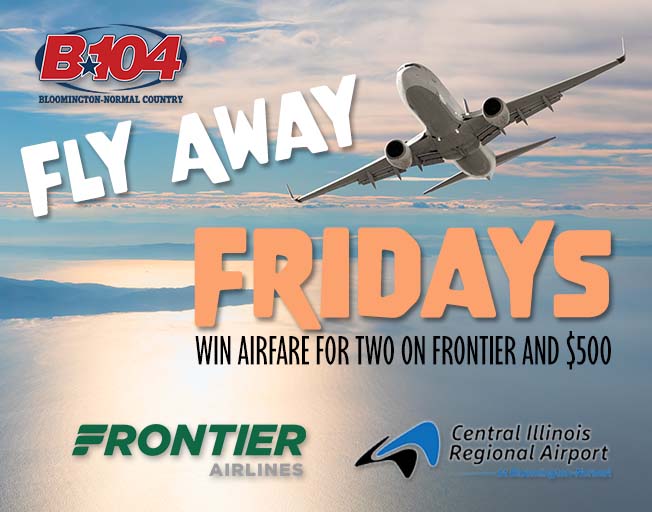 B104 has teamed up with Central Illinois Regional Airport and Frontier Airlines to send you on a fly away!
Win airfare to the destination of your choice on Frontier Airlines and $500 to use towards hotel, food, or anything else you do on your trip.
Listen to B104 to get qualified to win with Fly Away Fridays. We're giving you a chance to qualify four time per day every Monday thru Thursday during the contest. Listen during the 9am, 11am, 2pm and 4pm hours, when you hear the cue to call, be caller 9 to 309-821-1041 to get qualified!
Everyone who qualifies automatically wins $10 to The Olive Bin!
Faith will draw the grand prize winner each Friday morning (11/5, 11/12, 11/19) at 7:40am from that week's qualifiers. The winner's name will be announced and that person will have 10 minutes and 41 seconds to call back and claim the trip. If the first person named does not call back, we will draw a new name until someone calls back in the allotted time.
There will be 3 weeks of contesting and 3 grand prize winners! Each grand prize includes $500 in airfare from Frontier Airlines with $500 for accommodations from Central Illinois Regional Airport for your next trip.
Fly Frontier from CIRA in Bloomington, IL to Orlando, Denver, and beginning December 17th – TAMPA!
Don't miss out on your chance to fly away with Central Illinois Regional Airport, Frontier Airlines, and Bloomington-Normal's #1 Country, B104.


Click here for Official Contest Rules.