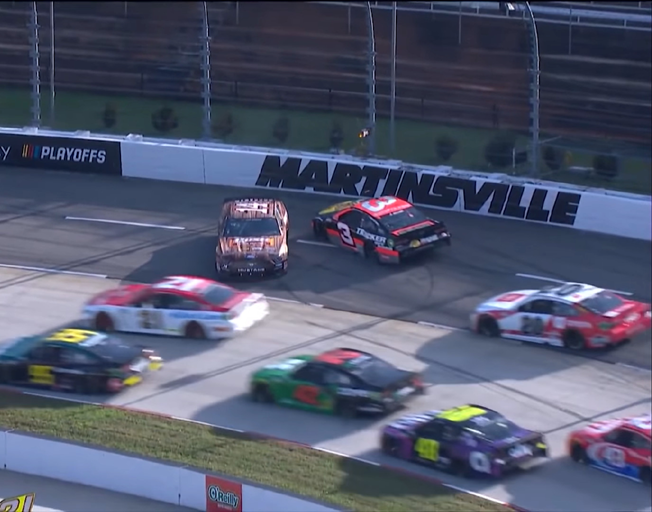 This week is the elimination race in the Round of Eight in the NASCAR Cup Series Playoffs. Who will join Kyle Larson in the Championship Four after the Xfinity 500 at Martinsville Speedway?
When NASCAR goes short trackin' things tend to get entangled. That includes bumpers, sheet metal and tempers. This weekend it could see even more drama than usual at Martinsville Speedway.
Kyle Larson locked himself in the Championship Fur by winning the first race in the Round of Eight at Texas Motor Speedway. He increased the pressure on the other seven Playoff drivers in the Round of Eight by winning last week's race at Kansas Speedway. That took away a chance to "win and get in" from another Playoff driver.
Heading to the Xfinity 500 at Martinsville Speedway two drivers have a decent lead above the cut line. The next four drivers are separated by just six points. The final driver still active in the Playoffs will likely have to win to advance.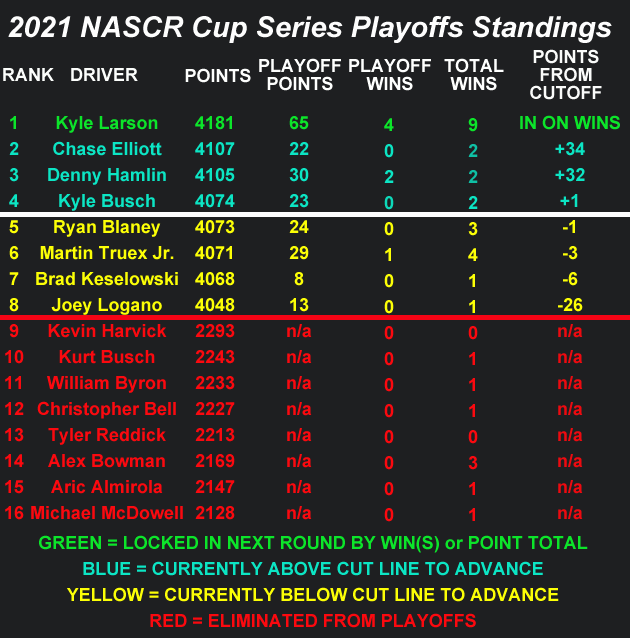 Here is what all of the drivers in the Playoffs and not in the Playoffs will be facing this weekend.
Martinsville Speedway Data:
Track Size: 0.526-mile
Banking/Turn 1 & 2: 12 degrees
Banking/Turn 3 & 4: 12 degrees
Banking/Frontstretch: 0 degrees
Banking/Backstretch: 0 degrees
Frontstretch Length: 800 feet
Backstretch Length: 800 feet
Xfinity 500 Data:
Season Race #: 35 of 36 (10-31-21)
Playoff Race #: 9 of 10
Race Length: 500 laps / 263 miles
Stage 1 & 2 Length: 130 laps (each)
Final Stage Length: 240 laps
Here are the Round of Eight drivers listed from best to worst in overall Driver Rating at Martinsville Speedway.
Denny Hamlin – 106.1
Kyle Busch – 102.4
Ryan Blaney – 100.0
Brad Keselowski – 98.8
Joey Logano – 97.2
Chase Elliott – 96.9
Martin Truex Jr. – 85.8
Kyle Larson – 75.8
Based on last 32 races at Martinsville Speedway (2005 – 2021)
Here are the active drivers that have won a NASCAR Cup Series race during their careers.
Denny Hamlin – 5 Wins
Martin Truex Jr. – 3 Wins (April 2021 race winner)
Kurt Busch – 2 Wins
Kyle Busch – 2 Wins
Brad Keselowski – 2 Wins
Chase Elliott – 1 Win (November 2020 race winner)
Joey Logano – 1 Win
Kevin Harvick – 1 Win
Ryan Newman – 1 Win
Note: Drivers names in red are currently in championship contention in Playoffs.
Chase Elliott and Denny Hamlin just need to have a fairly good day they will likely advance to the Championship Four. If either has a great day and adds another win to their total, that will clinch their spot instantly.
If Chase and Denny are able to advance that will leave just one more spot open. Kyle Busch, Ryan Blaney, Martin Truex Jr. and Brad Keselowski all need to have better days than the others that are within single digit points of each other in order to advance. Should any of them find a way to win that would lock them in the Championship Four.
Joey Logano is not mathematically in a "must win" scenario. However, it would take a very good day for him with help form others to advance without the win.
There is always the chance that either Kyle Larson or a non-Playoff driver that wins the race. That would make which drivers advance to the Championship Four with Kyle Larson based on just points. The pressure on those seven drivers will be very high as the NASCAR Playoffs go short trackin'!
We will find out who advances to the Championship Four after the green flag waives to start the Xfinity 500 at Martinsville Speedway Sunday, October 31st at 1 p.m. central time (2 p.m. eastern time).
By: Buck Stevens