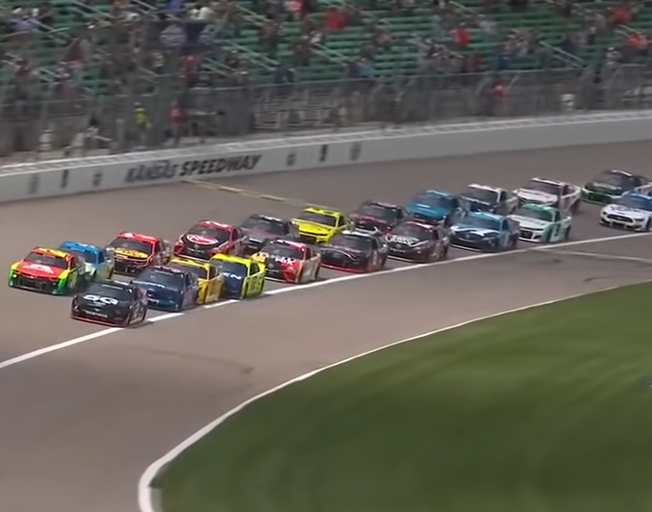 The Round of Eight continues this week with the Hollywood Casino 400 at Kansas Speedway. Seven drivers still want to earn a spot in the Championship Four.
Kyle Larson won last weekend's race. That locked him in the Championship Four with a chance to win the 2021 NASCAR Cup Series Championship in the final race of the season. Larson has been considered one of the favorites (if not the front runner) to win this year's championship most of the season. He has a series leading three wins in the Playoffs and dominant eight wins for the year so … so far.
Five of the remaining post-seasons drivers are all within 32 points of each other. The other two drivers are within 28 points of the lowest of those five. That shows that the competition for the final three spots in the Championship Four could be very tight. That will put extra pressure on those drivers to perform this weekend.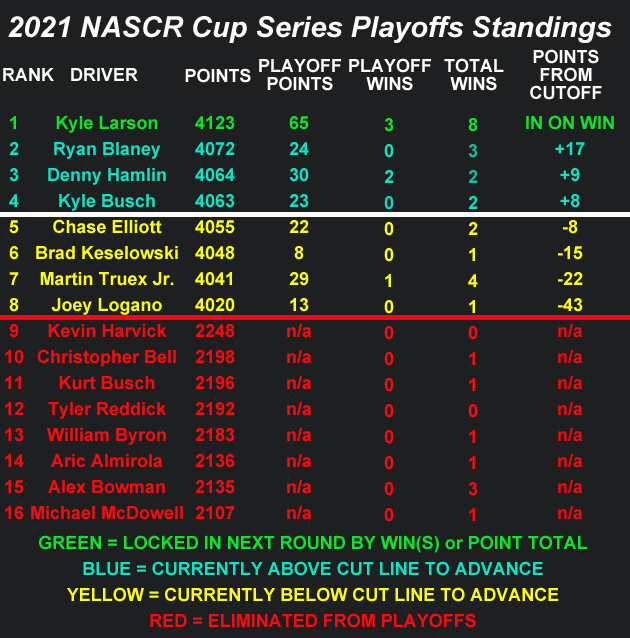 Here is what the drivers and teams will be facing this weekend.
Kansas Speedway Data:
Track Size: 1.5-miles
Banking/Turn 1 & 2: 17 to 20 degrees
Banking/Turn 3 & 4: 17 to 20 degrees
Banking/Frontstretch: 10 degrees
Banking/Backstretch: 5 degrees
Frontstretch Length: 2,685 feet
Backstretch Length: 2,207 feet
Hollywood Casino 400 Data:
Season Race #: 34 of 36 (10-24-21)
Playoff Race #: 8 of 10
Race Length: 267 laps / 400.5 miles
Stage 1 & 2 Length: 80 laps (each)
Final Stage Length: 107 laps
Here are how the Round of Eight Playoff Drivers rank in overall Driver Rating at Kansas Speedway.
Martin Truex Jr. – 100.3
Chase Elliott – 98.0
Ryan Blaney – 96.7
Kyle Larson – 96.7
Brad Keselowski – 95.1
Kyle Busch – 94.0
Denny Hamlin – 91.5
Joey Logano – 88.0
Eight active drivers have won at least one race during their NASCAR Cup Series careers.
Denny Hamlin – 3 Wins
Joey Logano – 3 Wins
Kevin Harvick – 3 Wins
Brad Keselowski – 2 Wins
Kyle Busch – 2 Wins
Martin Truex Jr. – 2 Wins
Chase Elliott – 1 Win
Ryan Newman – 1 Win
Note: Driver names in Red are currently in contention in the Playoffs.
Kyle Larson was the dominant car in the May race at Kansas earlier this year. However, due to situations near the end of the race it was Kyle Busch that was able to claim the victory. Will Kyle Larson be able to dominate again and cap the day of with the win that eluded him earlier this year? That would put even more pressure on the other Playoff drivers with just one race to "win and get in" the Championship Four.
Perhaps Kyle Busch will be able to sweep the Kansas races for the season and get his pass to the Championship Four.
Denny Hamlin and Joey Logano sit at the top of the list of active drivers with wins at three each. However, they both sit at the bottom when it comes to overall performance among the Round of Eight drivers. Perhaps one of them will find another win to advance to the final race with a chance at the championship.
Will it be Brad Keselowski, Martin Truex Jr. or Chase Elliott earning the "win and get in" clause? They all have at least one win (two for Brad and Martin) and decent overall driver ratings at Kansas.
Ryan Blaney is the only Round of Eight driver I have not mentioned yet. He also has a good overall driver rating for Kansas. Can he get his first win at the track to join Larson as a lock in the Championship Four.
All of the other 42 drivers on the track will be trying to play spoiler to the Playoff Drivers and win the race for themselves.
We will find out what happens when the Hollywood Casino 400 starts Sunday, October 24th at 2 p.m. central time (3 p.m. eastern time) at Kansas Speedway.
By: Buck Stevens