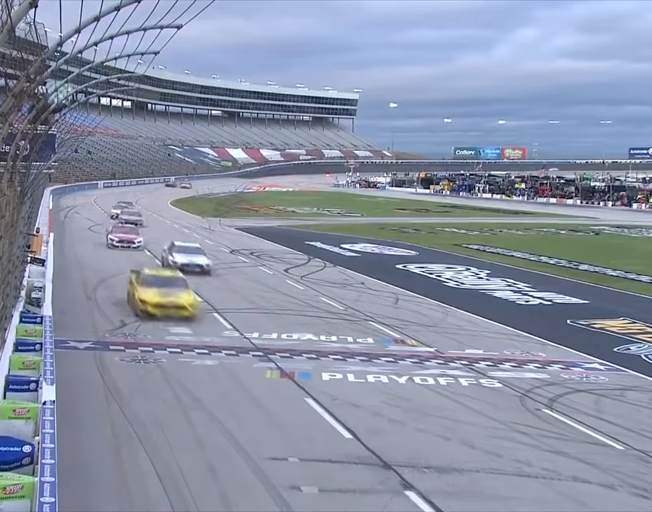 The eight drivers that still have a shot at the 2021 NASCAR Cup Series Championship will have the chance to win big or stumble big in the Autotrader EchoPark Automotive 500.
The Round of Eight begins with a race at Texas Motor Speedway where there is plenty of room to race. The track is also big enough to reach speeds of around 200 mph at times. That gives the Playoff drivers the chance to score big or fumble even bigger.
Kyle Larson starts the round from the top of Playoff Standings with a pretty good lead thanks to his Playoff Points. However, a disaster of a day could see him below the cut line by the end of the Texas race.
The other seven drivers are even closer together. That means just a bad day for a few drivers and a good day for others could completely shuffle the post-season outlook.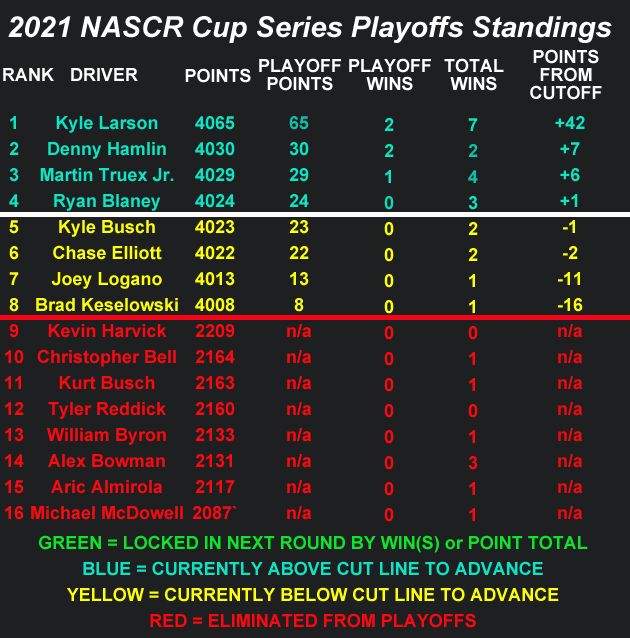 Here's what all of the drivers are facing regardless of their Playoffs status.
Texas Motor Speedway Data
Track Size: 1.5-mile
Banking/Turn 1 & 2: 20 degrees
Banking/Turn 3 & 4: 24 degrees
Banking/Frontstretch: 5 degrees
Banking/Backstretch: 5 degrees
Frontstretch Length: 2,250 feet
Backstretch Length: 1,330 feet
Autotrader EchoPark Automotive 500 Data
Season Race #: 33 of 36 (10-17-21)
Playoff Race #: 7 of 10
Race Length: 334 laps / 501 miles
Stage 1 & 2 Length: 105 laps (each)
Final Stage Length: 124 laps
Here are how the Round of Eight Playoff Drivers rank in overall Driver Rating at Texas Motor Speedway.
Kyle Busch – 103.3
Martin Truex Jr. – 94.5
Ryan Blaney – 93.6
Joey Logano – 90.2
Chase Elliott – 88.9
Denny Hamlin – 88.3
Brad Keselowski – 85.9
Kyle Larson – 83.8
Seven active drivers have won at Texas Motor Speedway in their Cup Series careers.
Kyle Busch – 4 Wins (2020, '18, '16, '13)
Denny Hamlin – 3 Wins (2019, '10 sweep)
Kevin Harvick – 3 Wins (2019, '18, '17)
Austin Dillon – 1 Win (2020)
Joey Logano – 1 Win (2014)
Kurt Busch – 1 Win (2009)
Ryan Newman – 1 Win (2003)
Note: Driver names in Red are currently in contention in the Playoffs.
Kevin Harvick has won three of the last four fall Playoff races held in Texas. He was eliminated from contention following last weekend's race on the Charlotte ROVAL. He has yet to win a race in the 2021 season. Will he be able to get his first win of the season by playing spoiler to the Round of Eight drivers?
Denny Hamlin has started the first two rounds of the Playoffs by getting his only two wins of the 2021 season. It has allowed him to compete in the other two race in those rounds knowing he has already advanced to the next round. Will he be able to make it three for three in the first race of each round in the post-season?
Kyle Larson was dominant most of the regular season. He seemed to cool down some as the Playoffs neared. He has been able to win two races in the Playoffs. However, the wins were not really in the dominating style he won in the regular season. Kyle rebounded at last weekend's race after some electrical issues to win the race. That showed character for him and his team. Could this weekend be the week he gets back to a dominant winning style to secure his spot in the Championship Four?
All of the drivers have their own reason for wanting to win the race this weekend. We will see which one gets to Victory Lane when the green flag waives to start the Autotrader EchoPark Automotive 500 Sunday, October 17th starting at 1 p.m. central time (2 p.m. eastern time) at Texas Motor Speedway.
By: Buck Stevens