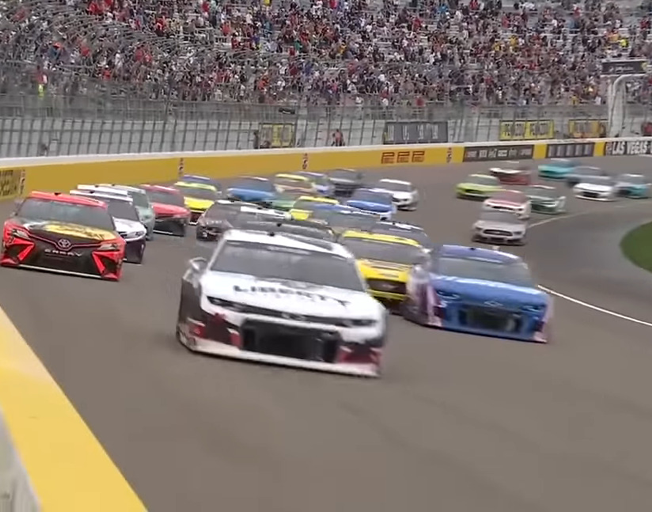 There are now 12 drivers that have a chance to win the 2021 NASCAR Cup Series Championship. The South Point 400 will start the Round of 12 at Las Vegas Motor Speedway.
This will be the first chance for the 12 remaining post-season drivers to win a race to earn an automatic advance to the next round in the NASCAR Playoffs. It could also be their first chance to have a disaster of a race and make advancing a must win situation in the next two races.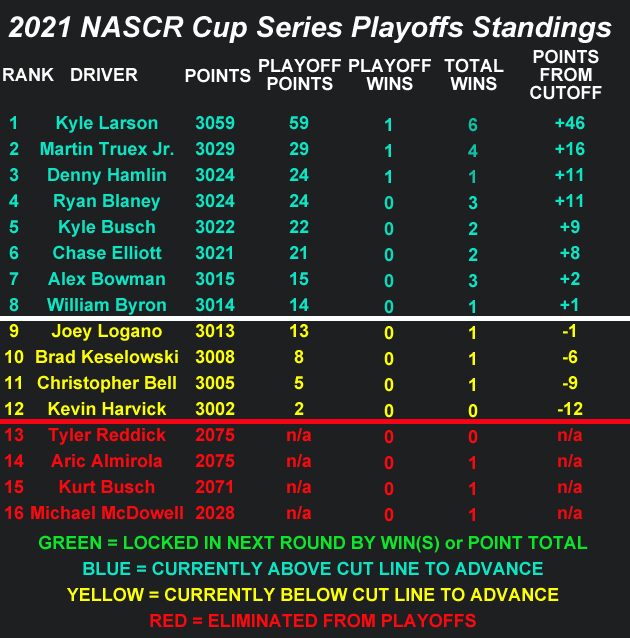 This is what the drivers and teams in the Playoffs and not in championship contention will all be facing equally.
Las Vegas Motor Speedway Data
Track Size: 1.5-miles
Banking/Turns 1 & 2: 20 degrees
Banking/Turns 3 & 4: 20 degrees
Banking/Frontstretch: 9 degrees
Banking/Backstretch: 9 degrees
Frontstretch Length:  2,275 feet
Backstretch Length:  1,572 feet
South Point 400 Data
Season Race #: 30 of 36 (09-26-21)
Playoff Race #:4 of 10
Race Length: 267 laps (400.5 miles)
Stage 1 & 2 Length: 80 laps (each)
Final Stage Length: 107 laps
Racing at Las Vegas Motor Speedway is quite challenging for many drivers. Here are how the 12 NASCAR Cup Series Playoff drivers rank in overall driver rating at Las Vegas Motor Speedway.
Joey Logano – 103.7
Kevin Harvick – 102.9
Kyle Busch – 100.2
Kyle Larson – 98.8
Martin Truex Jr. – 98.3
Chase Elliott – 98.1
Ryan Blaney – 97.6
Brad Keselowski – 96.2
Denny Hamlin – 86.7
William Byron – 82.1
Alex Bowman – 76.6
Christopher Bell – 70.1
There are only seven active drivers that have won a NASCAR Cup Series race at Las Vegas during their career.
Brad Keselowski – 3 Wins
Kevin Harvick – 2 Wins
Joey Logano – 2 Wins
Martin Truex Jr. – 2 Wins
Kyle Busch – 1 Win
Kurt Busch – 1 Win (fall 2020 race)
Kyle Larson – 1 Win (March 2021 race)
Kyle Larson has been the dominant driver most of the 2021 NASCAR Cup Series season. He won his first race of the year in the March race at Las Vegas in dominant style. Last week he got his first win of the 2021 NASCAR playoffs (6th win of the season). Perhaps that win will give him the momentum to repeat not just the dominance in Las Vegas from earlier in the year, but also the win. If he does it will advance him in the Playoffs.
Denny Hamlin finally got his first win of the year in the first race in the Playoffs in the Round of 16. Will he be able to start the Round of 12 with a win as well?
Kevin Harvick has yet to fins his way to Victory Lane this season after a 2020 season that saw him win nine races. He starts this round of the NASCAR Playoffs at the bottom of the list of 12 contenders. Perhaps he can get his first win of the year and third Las Vegas win to advance to the next round in the post-season.
Of course there are nine other Playoff drivers that want to write their own automatic advance story this weekend. There will also be 28 other drivers with their sights set on winning.
How will it all play out as the drivers race two, three, four and possibly five wide at times? We will find out starting at 6 p.m. central time (7 p.m. eastern time) Sunday, September 26th in the South Point 400 at Las Vegas Motor Speedway.
By: Buck Stevens