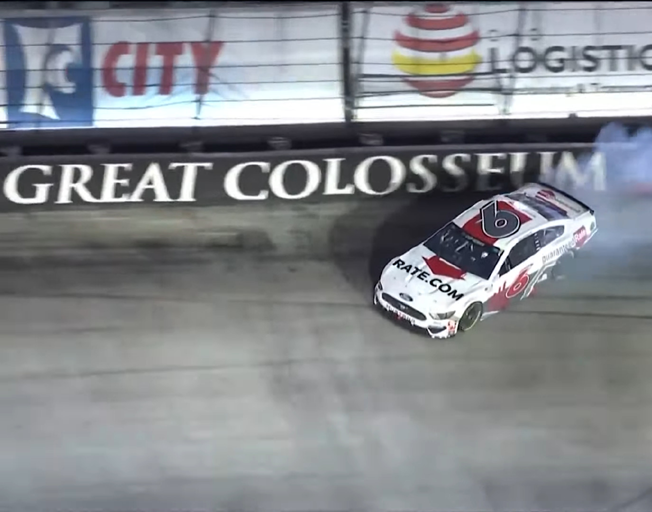 This weekend is the Round of 16 elimination race in the NASCAR Playoffs. To make it more stressful, it's a short track Saturday night race at Bristol Motor Speedway!
That's right, it's time for the Bass Pro Shops Night Race at Bristol and it will be the end of championship hopes for four of the post-season drivers.
Two drivers (Denny Hamlin and Martin Truex Jr.) have won in the first two races in the Round of 16. That means they get an automatic advance to the Round of 12. One driver (Kyle Larson) has accrued enough points to clinch a spot in the Round of 12.
The remaining 13 drivers can all be among the four to be eliminated OR be among the nine that advance. Some of those Playoff drivers have an easier path to advance than others. Some will need help from others to remain in post-season contention. One will likely have to win to advance.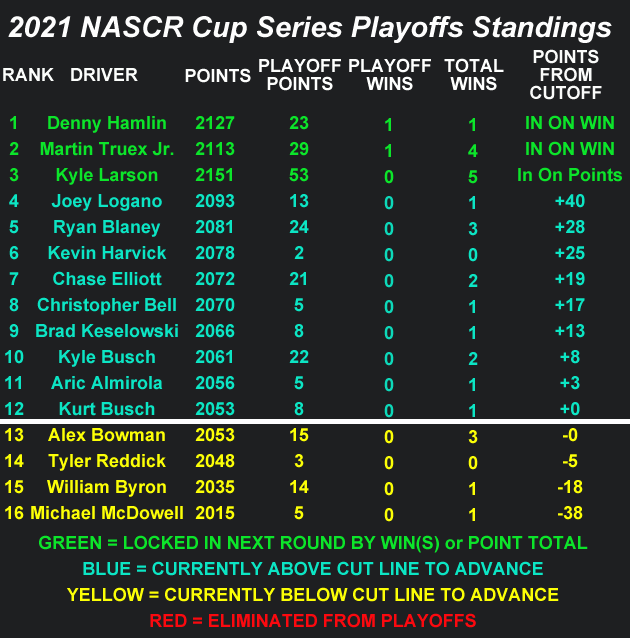 Here is what the drivers will be facing this weekend.
Bristol Motor Speedway Data
Track Size: 0.533-miles
Banking/Turns 1 & 2: 24-28 degrees
Banking/Turns 3 & 4: 24-28 degrees
Banking/Frontstretch: 4-8 degrees
Banking/Backstretch: 4-8 degrees
Frontstretch Length:  650 feet
Backstretch Length:  650 feet
Bass Pro Shops Night Race Data
Season Race #: 29 of 36 (09-18-21)
Playoff Race #: 3 of 10
Race Length: 500 laps / 266.5 miles
Stages 1 & 2 Length: 125 laps (each)
Final Stage Length: 250 laps
The last time the drivers raced at Bristol Motor Speedway it was covered in dirt. The last time they raced at Bristol on pavement was in the Playoffs of 2020. You have to wonder which style of racing at Bristol will be the freshest in their heads.
Here are the overall driver ratings for the 16 Playoff drivers listed from best to worst at the track they call the "Last Great Colosseum".
Kyle Busch – 102.9
Kyle Larson – 99.1
Chase Elliott – 98.7
Kevin Harvick – 96.8
Denny Hamlin – 91.6
Joey Logano – 91.3
Kurt Busch – 91.2
Ryan Blaney – 89.6
Brad Keselowski – 89.3
Martin Truex Jr. – 83.0
Christopher Bell – 77.3
Tyler Reddick – 69.6
William Byron – 67.3
Alex Bowman – 67.2
Aric Almirola – 66.3
Michael McDowell – 43.5
All six of the active drivers that have won at Bristol Motor Speedway during their NASCAR Cup careers are current 2021 Playoff drivers in the Round of 16.
Kyle Busch – 8 Wins
Kurt Busch – 6 Wins
Brad Keselowski – 3 Wins
Kevin Harvick – 3 Wins
Denny Hamlin – 2 Wins
Joey Logano – 2 Wins
Will it be one of the three drivers already locked in the Round of 12 claiming the win at Bristol? That would leave the rest to sort it out based on points alone.
Will it be a driver that has an easy path on points winning to put an exclamation point on his advance to the Round of 12?
The 2021 season started with some surprising wins including Michael McDowell winning the Daytona 500 to start the year. Perhaps he will again surprise us by winning at Bristol to advance to the Round of 12.
No matter who ultimately wins the race, it should be fun to watch. When the NASCAR Cup Series goes short trackin' Saturday night there is typically beatin', bangin' and swapping of paint. It leads to excitement and drama for fans to enjoy watching.
It will all get started Saturday night, September 18th at 6:30p.m. central time (7:30 p.m. eastern time) in the Bass Pro Shops Night Race at Bristol Motor Speedway.
By: Buck Stevens