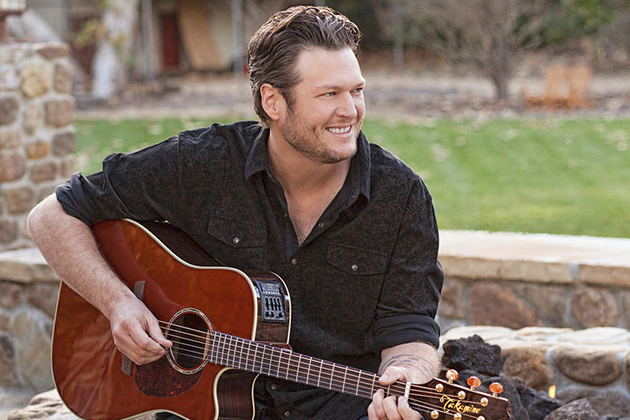 Blake Shelton is the latest artist to be the subject of a featured exhibit at the Country Music Hall of Fame in Nashville.
The Hall announced that the exhibit opens May 27th and runs through November 6th. It will "explore the life and work of one of country music's most popular and multi-dimensional artists" according to the Country Music Hall of Fame's website.
The exhibit will be titled Blake Shelton: Based on a True Story, which is a play off the title of Blake's seventh studio album released in 2013.
The exhibit will feature artifacts from Blake's career including instruments, stage clothing, photos, song manuscripts, personal items and more for fans to see.
"I came to Nashville in 1994, and I've always been fascinated by the Country Music Hall of Fame and Museum," Blake confesses.
On the subject of having his own exhibit there, Blake says, "I remember the first time I walked in there, I was blown away. To have my own exhibit is more than a dream come true, because I never dreamed it could happen! It's crazy, is what it is. I couldn't be more excited or more honored than to be a part of the museum."
Blake released his debut self-titled Platinum album in 2001 that features his debut #1 single "Austin." Since then he has released nine studio albums, four compilation albums and 31 singles. Twenty-one of those singles have reached the top of the country airplay charts with the last 16 extending a historic streak of consecutive #1 singles.
Along the way Blake has won five CMA Male Vocalist of the Year awards as well as the CMA Entertainer of the Year in 2012. Overall Blake has been awarded nine CMA Awards, four ACM Awards, four American Country Awards, three CMT Music Awards and an American Music Award as well as being a seven-time Grammy nominee.
Blake became a member of the Grand Ole Opry in 2010 and is one of only two coaches to have appeared on all ten seasons of the award-winning hit TV reality show-singing competition The Voice. He has served as co-host for the ACM Awards Show for several years with Reba first and then Luke Bryan. This year he will host Nickelodeon's slime-filled Kids' Choice Awards.
Music Row quotes Country Music Hall of Fame CEO Kyle Young as saying, "Blake Shelton is one of the most well-established contemporary artists in country music. Countless accolades into his musical career, he continues to stay true to his sound and musical style, and continues to receive recognition for it. We're honored to host this exhibition and to share the story of this incredibly talented individual."
Artists to have been featured in the Country Music Hall of Fame with their own exhibits include: Luke Bryan, Keith Urban, Miranda Lambert, Eric Church, Carrie Underwood, Kenny Rogers, Reba, Alan Jackson, Patsy Cline and many more.
Blake just announced the release of a new single called "Came Here To Forget" which will come from his 10th studio album set to be released later this year.
Congratulations to Blake Shelton on his Country Music Hall of Fame exhibit highlighting his career to this point.
By: Buck Stevens